Airplane Formation Ends in Tragedy as One Plane Crashes on Takeoff
Duration: 0:35
Views: 1.9K
Submitted: 2 weeks ago
Submitted by:
Description: ITALY: A video posted online shows the aircraft crashing seconds after the formation takes off. The pilot managed to eject but the aircraft hit a car killing a little girl and injuring her family.

An MB-339A/PAN MLU of the Frecce Tricolori display team crashed on take off from Turin-Caselle airport in the afternoon on Sept. 16, 2023.

The aircraft was taking off in the first of two 5-ship sections that were due to perform at the Vercelli Airshow 2023 when it experienced a problem that forced the pilot to eject.

Unfortunately, the MB-339 hit a car traveling on a road just outside the perimeter fence: a 5-year-old girl was killed, and her mother, father and 9-year-old brother were injured according to the reports.

A video posted online by the Quotidiano Canavese media outlet shows the aircraft crashing on the ground.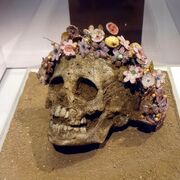 Nanker_Phelge 2 weeks ago
«I got booted from reddit Canada for suggesting the Snowbirds be disbanded after a fatal accident.»